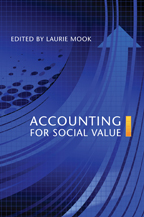 Demonstrating Value is featured in Accounting for Social Value, a new book published by University of Toronto Press edited by Laurie Mook.
This book is full of ideas and practical applications of how standard accounting practices can be extended to reflect a broader set of social interests.  Chapter contributions reflect a diversity of approaches and contexts, including the development and application of social accounting tools to:
engage stakeholders in co-operatives,
evaluate micro-loan program,
adopt sustainable purchasing practices,
support stewardship of biodiversity, heritage assets and systems of knowledge,
guarantee the integrity of value chains in fair trade,
show the value of social enterprises.
In Chapter 6, I share what we have learned in the six year history of the Demonstrating Value Initiative, which originated as an informal exploration of impact assessment methods by a number of Vancouver-based social enterprises and investors.  Dissatisfaction with these methods led to more than twenty social enterprise and investors coming together to find a better way to assess and express the full value of social enterprises, one that would build on the operational and planning needs of social enterprises themselves.
It is great to see the work that we have done through Demonstrating Value in the context  of the other case studies in this book, and to be reminded of the relative newness and activist-nature of social accounting as a field.   Accounting for Social Value can be ordered through University of Toronto Press ($29.95)