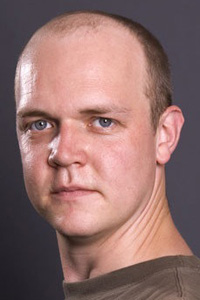 You're reading our newsletter, you've likely spent some time on our website and blog…and now you may be wondering, "who are these Demonstrating Value folks?" Well, we'd like to tell you! In the spring issue of The Value Herald, we will introduce you to Garth Yule, Program Manager of Evaluation and Community Impact at the Vancity Community Foundation (VCF), whose duties include managing Demonstrating Value.

Let's take a moment to update you on some staffing changes at Demonstrating Value. Bryn has taken a year of parental leave and her son is just over three months old now! For the rest of 2012, Garth Yule has taken on responsibility for the program. Garth moved to Vancouver from Ottawa in 1997 and has put down roots here. He was an intern with Bryn while he completed his MBA at UBC, and started working for VCF on a full-time basis in January 2012. Garth's background is in communication and strategic planning for non-profit organizations. He answered a few personal questions to allow us to get to know him better:

What do you do in your spare time?
My daughter will turn two this summer, so I don't have a lot of "spare" time on top of parenting, but I do love to ride my bike. I also like baking bread, and I enjoy collecting music and DJ-ing.

What is the most interesting/unique job you have ever had?
Well, I think my current work with DV takes the top spot, but I also worked as a communications assistant for the BC Government's Y2K preparedness agency in 1999. And for a summer I dressed up in an 8 foot tall furry lighthouse mascot costume and marched with a Scottish pipe band.

What food do you enjoy most?
Homemade Hawaiian soy cheese pizza, hot off the stone!

What music are you listening to right now?
A compilation of 10 years of tracks from Sender, a German techno record label.

If you were to travel anywhere in the world, where would you go?
I would like to go to visit my cousin in Yellowknife and see the 24-hour sunlight in the summer.

If you would like to personally welcome Garth to the Demonstrating Value team, send him an email (garth_yule@vancity.com) or phone him directly at 604.877.7646. Welcome, Garth!