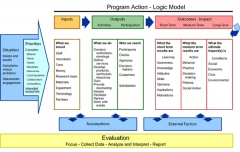 Figuring out what to measure and how to do it

A logic model is a commonly-used tool to explain and illustrate a program within an organization. While a logic model is sometimes referred to as a logical framework, theory of change, or program matrix, the purpose is usually the same: to graphically depict your program, initiative, project or even the sum total of all of your organization's work. It also serves as a foundation for program planning and evaluation.[1]

The Outcome Indicators Project is a joint project of the Urban Institute and the Center for What Works and serves as a useful starting point for work around logic models. Providing a framework for tracking the performance of non-profit organizations, the Project proposes candidate outcomes and outcome indicators. Ultimately, the Project aims to help organizations develop new processes for outcome monitoring or improve their existing systems.

The Outcome Indicators Project website is comprised of three sections, each providing a selection of valuable resources.
Building a Common Outcome Framework To Measure Nonprofit Performance is a paper that delves into the rationale for the Project and its components, including suggested sources for the outcomes and outcome indicators included in the Project.
Outcomes and Performance Indicators for 14 Specific Program Areas is a collection of reports that apply the Framework to an assortment of program areas, including Affordable Housing, Business Assistance, and Employment Training.
Nonprofit Taxonomy of Outcomes is a report that describes basic, generic outcomes and performance indicators that can be used for any program.
 
Visit the Outcome Indicators Project website to continue exploring how you can use a common framework for outcome measurement to help ease the complexities of reporting.

Mapping the relationships between what you do and the long-term outcomes you want to see

Demonstrating Value Tools and Solutions also offer a useful resource for clearly describing your social, environmental, and/or social mission, with the Why you Matter – Map your Social, Environmental or Cultural Impact worksheet (follow this link and scroll down to the bottom of the page). Use this worksheet to learn to show how your organization creates value, how your work relates to larger social and environmental change, and how you can use the logic model as a tool for mapping the relationships between what you do and the long-term outcomes you want to see.

[1] Logic Model Workbook. Innovation Network, Inc. http://www.innonet.org/client_docs/File/logic_model_workbook.pdf

Image Source: Program Development and Evaluation (University of Wisconsin – Extension)