Are you about to engage in strategic or business planning in your organization?  Planning  offers a great point to think about what has and hasn't worked in the past, how you create value (for community, within your business and organization), how you can create even more value, and ways to measure your success moving forward. Demonstrating Value can complement planning activities in a number of ways. 
The first way is to help you focus on the big picture, and to ensure that you bring in different perspectives into your planning.   Demonstrating Value tools are build around a holistic picture captured in this lens: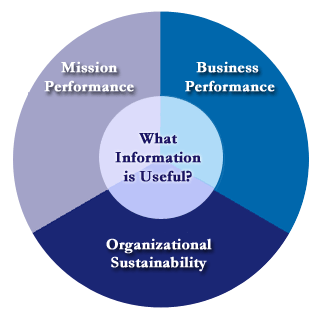 While this lens was developed to think about measurement, it can useful for framing your planning conversations:
An Organizational Sustainability Perspective – Are you developing the processes, systems and resources you need to stay viable, and to be resilient to unexpected change in the future?
A Mission Impact Perspective – How successful are you in meeting the social, cultural and environmental objectives set out in your mission? Can you fine tune what you do to create more value for community and the people you serve?
A Business Performance Perspective – What is your value to your customer?  Are you successful financially? Is your business model realistic?
If you are planning for a new venture, the lens can focus  your attention on what you will need to do to be successful as a social enterprise.
Specific Demonstrating Value tools can also complement planning activities in a number of ways.  The first is to help you ask key questions about what you have done so far in order to better help you look forward by pinpointing needs and opportunities.  The second way is to make it easier to measure your success moving forward. Check out these tools!
Impact Mapping Worksheet: This is a great tool for helping you determine all the ways you may be creating value in the community through your mission, and to help you make linkages between what you do, and the community outcomes that you seek.
Organizational Sustainability Tool:  This  self assessment looks at the resiliency of your organization. It is based around whether you are building 'capitals' that are important to ensure a healthy organization (Human Capital, Organizational Capital, Financial Capital, Social Capital and Intellectual Capital).
Social Enterprise Evaluation Question Set:  This is a list questions that can help you revisit the expectations for starting a social enterprise to evaluate its success. Pick from the list to focus your planning discussions.
Sustainable Operations Assessment:  This is a self-assessment matrix that can help you pull together and review the practices that you may be doing to support progressive workplace practices, community leadership and operational practices that are environmentally sustainable.
The Demonstrating Value Workbook: Once you have clear objectives in your plan, use this guide to identify ways to measure your performance and impact, design a performance snapshot, and define a plan for improving your data collection systems.