DV Blog
Expansion into Canada allows non-profits to harness the potential of mapping and satellite technology to visualize their cause.
 
When you hear the word "impact", what comes to mind? While your first thoughts may include that kickboxing class you just joined, it is it is also true that the term "impact" is often used loosely to encompass any type of reporting about the social or environmental mission of an organization. In the world of evaluation, this word has a much 'tighter' meaning:  Impact is the tracking of long-term outcomes, controlling for external influences, or using randomized control trials to prove that the outcomes are attributable to a particular organization's efforts.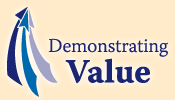 Welcome to the Demonstrating Value blog, where the DV team shares tools, resources and information that will assist community-based organizations plan, manage and communicate the value of their work.
 
Pages